Based out of New York, Legends is a new start-up in the travel scene.
Founders Stephanie Daniel and Shaina Shiwarski were effectively 'customers with an unmet need'.
They love a certain type of vacation: One that inspires, takes you off the beaten path, allows you to meet you interesting people and re-vitalises your soul.
Now, while this might include the occasional dusty backpacking trail, to meet Steph and Shaina's needs, the perfect vacation also has to feature a healthy dose of exclusively, favoured by those swimming in Soho House circles.
Planning this type of trip isn't straightforward: exotic places are difficult to find and recommendations are hard to trust—Trip Advisor doesn't cater well for a discerning audience.
On the flip side, remembering and sharing your trip can be a bit of a challenge also. Instagram is great, but what about that great ice cream bar in Tulum or the breezy restaurant in Vieques—did you save the location, website and phone number?
Probably not.
Creating a story for Legends
When we started working together, there was no product, only an investor presentation and some loose wireframes.
Step one was to firm up the customer profile. Using the STANCE template we agreed on the circles the prospective customer would flirt with, their sources of inspiration and the types of trip they enjoyed going on.
Next up: Games and exercises. Via zoom, we got creative with STANCE's proprietary workshop methodology to get the Steph and Shaina chatting... Imagining the future… Agreeing on the vision… And coining the personality.
After a few feedback sessions, we able to arrive on the final STANCE and some foundational copy to get their website and comms off the ground.

Every trip tells a story
It's now clear what Legends is here to do in life:
"Our purpose is to help people travel outside of the everyday."
Why? Because they believe that:
"Authentic travel can lead to the enlightenment of ourselves, each other and the world"
In the midst of the STANCE fell out the Expression:
"Every trip tells a story"
This is what it's all about. Finding the secluded coves, secret bars and hidden gems that are the makings of a perfect vacation.
Creating a strategic design brief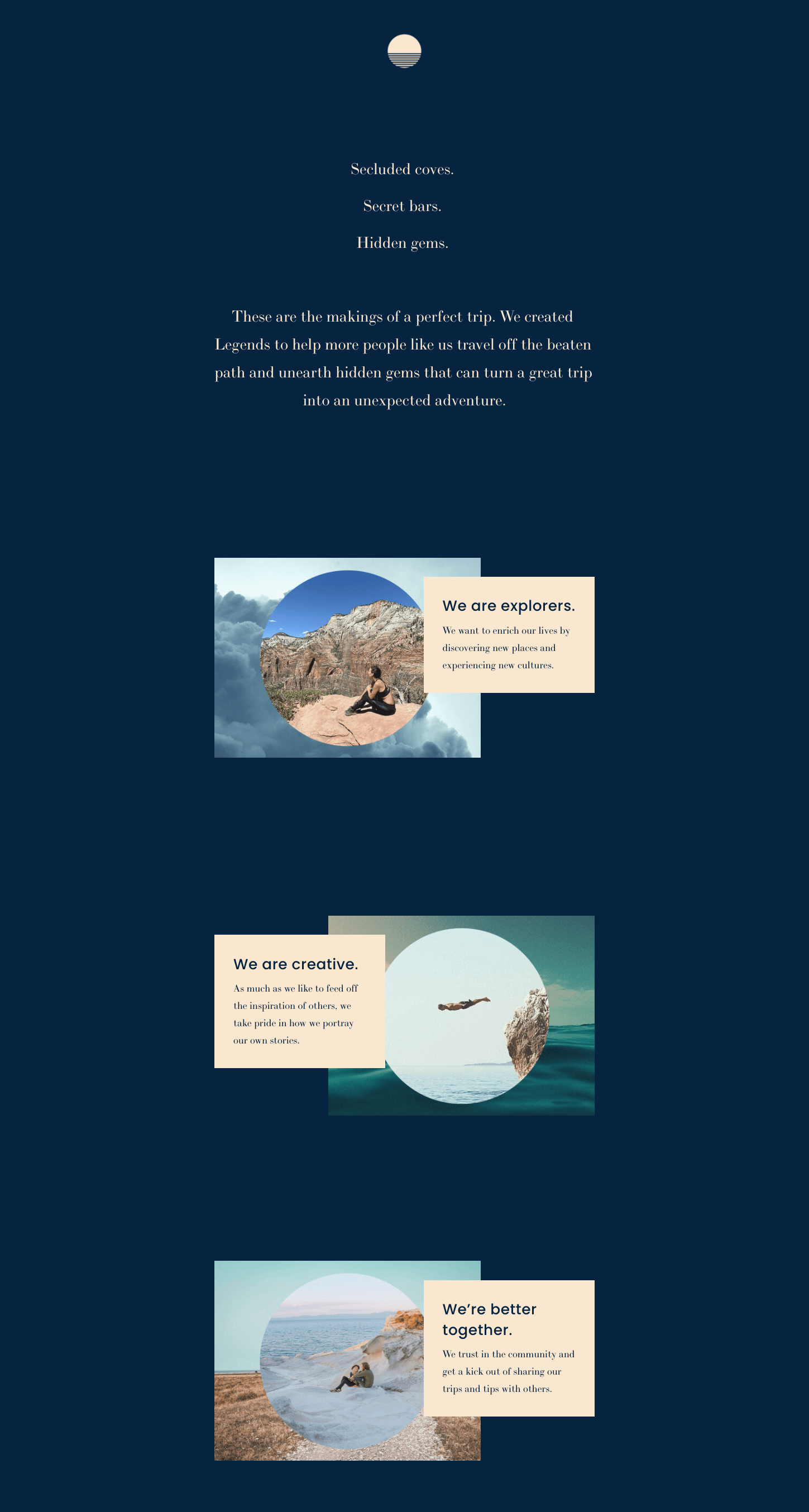 Roundabout the same time as STANCE. Legends started working on both web and app design. From the STANCE process, we were about to coin an Attitude that guided both copy and design. You can find these words on the About page of the website.
We look forward to sharing updates from Legends as they get their business off the ground. Watch this space!
Want to try and develop your own STANCE?
Here's a guide that you can work through in order to arrive at your own STANCE. You find examples from Convex and Legends as well as links to handy blogs including our feature on brand archetypes.
Like this blog, check out our case studies with Convex and Runway East, or try What is the STANCE method and why do you need it and Should you use positioning axes in your VC pitch.